Apple Posts iOS 5 Golden Master Seed for Developers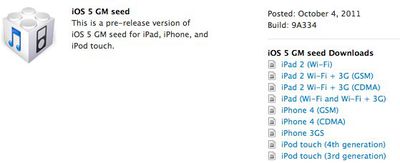 With the announcement of an October 12 ship date for iOS 5, Apple today posted the Golden Master (GM) release of iOS 5 to developers this afternoon, with a build number of 9A334.
Apple notes that users "must use iTunes 10.5 beta 7 to install iOS 5 GM seed on your devices. iOS 5 GM seed is not available via over the air software update" and encourages users to back up their devices via iCloud before installing the GM.
Apple posted a GM seed of Xcode 4.2 as well, and notes that the GM seed "can now be used to submit iOS 5 applications to the App Store for review."