October 4th Media Event to Be Held at Apple's Headquarters?
AllThingsD reports that Apple's iPhone media event apparently scheduled for October 4th will be held at the company's headquarters in Cupertino, California rather than the Yerba Buena Center for the Arts in San Francisco as has been typical for their iPad and iPod events.
Sources close to the company say the demonstration — currently scheduled for Tuesday October 4, a date first reported by AllThingsD — will be held at Apple's campus in Cupertino, California.
The report notes that it is unknown why Apple has chosen its own Town Hall Auditorium for the event, but offers a couple of theories including the possibility of uncertainty in locking down a date preventing Apple from booking an outside venue or a desire to give new CEO Tim Cook a more intimate venue for the first major product introduction under his official watch.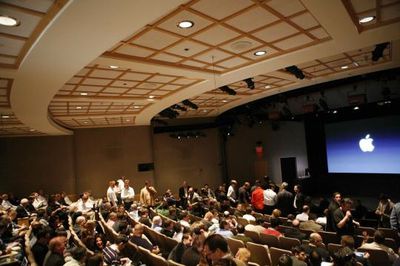 Apple's Town Hall auditorium (Source: CNET)
Apple has certainly used its on-campus facilities for media events in the past, most recently last October's
"Back to the Mac" event
. The site has also been used for the company's iOS media and developer preview events typically held each spring ahead of new hardware releases, as well as last July's press conference to address concerns over antenna performance on the iPhone 4.
Apple's iPhone introductions have until this year taken place at San Francisco's Moscone Center as part of larger events, with the original iPhone first being shown at Macworld Expo and later introductions coming at the company's Worldwide Developer Conference (WWDC). The Yerba Buena Center for the Arts has been Apple's major off-campus site for those media events not associated with conferences such as Macworld and WWDC. It has typically hosted Apple's fall media events that have focused on iPod and iTunes, and has also been the site of Apple's two iPad introductions.