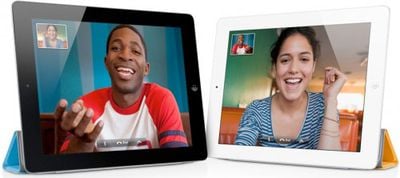 Calls made using Apple's video chat program, FaceTime, are encrypted end-to-end and -- with the right setup -- are HIPAA compliant, according to a statement from the company obtained by ZDNet.
This matters because any products for healthcare purchased with federal funds must be HIPAA-compliant. HIPAA, or the Health Insurance Portability and Accountability Act, was a large health-care bill passed in 1996, that, among other things, instituted wide requirements and guidelines surrounding patient privacy and confidentiality.
Keeping Protected Health Information, or PHI, safe and secure is essential for healthcare providers and FaceTime meeting those requirements allows hospitals to not only purchase iPads with federal funds, but it allows doctors to use FaceTime to confer with colleagues about patient issues and to talk directly to patients remotely.
However, to be truly compliant, hospitals need to have the proper wireless network. The WEP encryption protocol isn't strong enough and Apple recommends WPA2 Enterprise for secure communications:

iPad supports WPA2 Enterprise to provide authenticated access to your enterprise wireless network. WPA2 Enterprise uses 128-bit AES encryption, giving users the highest level of assurance that their data will remain protected when they send and receive communications over a Wi-Fi network connection.

In addition to your existing infrastructure each FaceTime session is encrypted end to end with unique session keys. Apple creates a unique ID for each FaceTime user, ensuring FaceTime calls are routed and connected properly.
FaceTime is available on the iPhone 4, iPad 2, fourth generation iPod touch and Macs running Snow Leopard and Lion. Video chats are available between any and all of these devices.
Apple has aggressively promoted the feature since it was released.