Mac App Store Now Offering Re-Buy Warnings for Apps Purchased Elsewhere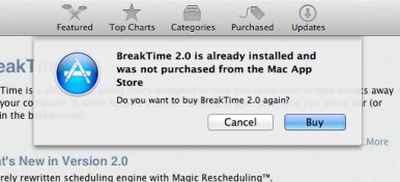 Macworld reports that Apple has made a change to its Mac App Store providing warnings to users attempting to purchase apps that are already installed on their computers but purchased from outside the Mac App Store. The warning says:
[App name] is already installed and was not purchased from the Mac App Store

Do you want to buy [app name] again?
The report notes that while Apple has yet to provide a way for users to bring their existing non-Mac App Store apps into the Mac App Store ecosystem, the step does help prevent accidental double purchases of apps in cases where users fail to realize that they have an application already installed.
As noted by The Next Web, however, the existing app and the Mac App Store must be the exact same version in order for the warning to be triggered. Consequently, users will still need to be careful to pay attention to their existing installed apps when browsing the Mac App Store.