Apple Seeds OS X 10.7.2 Build 11C57 to Developers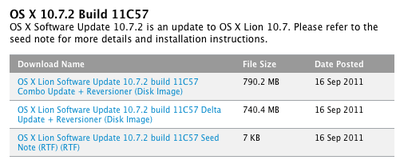 Apple is picking up the pace of OS X 10.7.2 developer seeds as it moves toward a public launch of iCloud and iOS 5, today pushing out Build 11C57 to developers for testing.
As with the previous seed, which came just five days ago, the iCloud components have been rolled into OS X 10.7.2. iCloud has previously been a separate download for beta testers.
Apple continues to list no known issues with the latest build, and has made no changes to its list of focus areas for testing, which include AddressBook, GraphicsDrivers, iCal, iChat, iCloud, Mac App Store, Mail, MobileMe, Safari, Spotlight, and Time Machine.