Photos of a Prototype (DVT) iPhone 5 Battery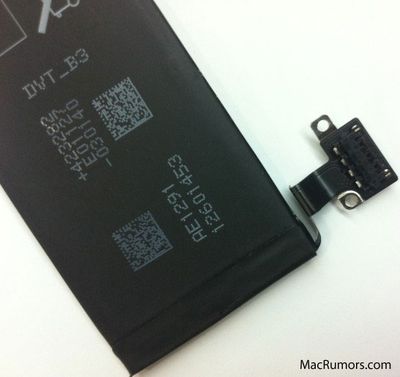 Early iPhone 5 parts seem to be making their way into the supply chain. Earlier this evening, we reported that some more iPhone 5 parts had shown up at one particular retailer, including the iPhone 5 battery. While we felt the parts were likely legit, we had no specific confirmation.
In the meanwhile, however, UK repair shop iPatchiPods has passed along a few photos of an iPhone 5 battery part they had received from their contacts. The photos show the same battery as previously posted. This battery, however, is labeled "DVT_B3", marking it as a late development prototype.
The progression of Apple's product development goes through several distinct phases. Following the development phases, products go into EVT (Engineering Verification Testing) and then DVT (Device Verification Testing) stages before they reach the production stage. Of course, we're not sure how old the battery shown in the photo is, so the iPhone 5 very well could be in the final production stage.
The part images come from someone who has supplied iPatchiPods with legitimate Apple parts ahead of previous launches.


The specs of the part are identical to the previously described part with approximately the same power delivery as the iPhone 4 battery. We are working to get more images and accurate comparison dimensions of the parts.