Microsoft's Windows 8 to Include an App Store Too
With industry trends clearly moving towards digital distribution, Microsoft will also be making the move with an "App Store" in the upcoming Windows 8. Microsoft introduced the Windows 8 team in a blog post earlier today.
Amongst the different teams listed, Microsoft listed an "App Store" team, seemingly confirming previous evidence from an early Windows 8 screenshot which showed a "Store" button: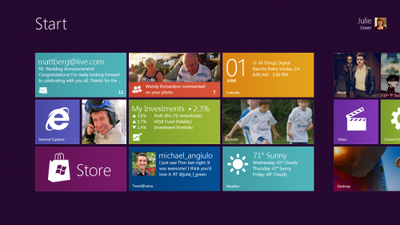 Windows 8 is a notable departure from Microsoft's latest desktop operating system, with many interface elements drawing from their Windows Phone 7 platform. The tile-based appearance offers an easy touch interface, while a more traditional desktop interface remains for legacy applications.
Apple has been a strong proponent of the App Store distribution model, moving in that direction faster than its competitors. With OS X Lion, Apple initially launched it as an exclusive App Store download, only offering a USB thumb drive option several weeks later.
Back in February we reported that Apple was making steps towards eliminating boxed software at their retail stores. In late July, Apple discontinued many of their boxed software items, leaving only the digital versions behind.
It's not clear yet if Microsoft will publicly brand their software store as an "App Store", as Apple has not taken kindly of the use of the term by other companies. Microsoft too had opposed Apple's "App Store" trademark application. In retrospect, their motives may have been due to this same intended feature in Windows 8. Microsoft already offers a store for apps called "Marketplace" in Windows Phone 7.