Apple Launches $999 iMac for Educational Institutions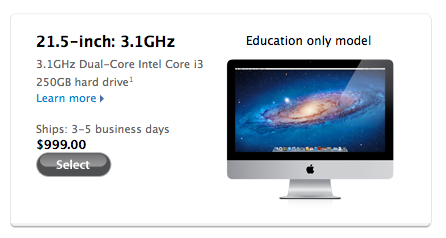 Apple has quietly launched a lower cost $999 iMac for educational institutions this morning. The new low-end model is labeled "Education only" and is not available for individuals. The new iMac appeared on Apple's Higher Educational online store early this morning. The specs now have been
published
on the site and reflect the following reduced features.
• 3.1GHz Intel Core i3 Dual-Core
• 21.5-inch LCD
• AMD Radeon HD 6750 with 256MB
• 2GB RAM
• 250GB Hard Drive
• SuperDrive
• OS X Lion
Interestingly, this new iMac does not have Thunderbolt, just a mini Display Port. The next higher model is $1149 and offers a 2.5GHz Quad-Core i5 with 4GB of RAM and 500GB hard drive.
Apple, in the past, has also offered special education only models for institutions. These larger educational purchases may be more price sensitive than the rest of the market, and Apple has adjusted the hardware down in order to fit the sub-$1000 price point. Apple appears to still offer an even cheaper
$899 20" iMac
that houses the previous generation Intel Core 2 Duo and does not even appear to include OS X Lion.