Apple Enables MobileMe to iCloud Migration for Developers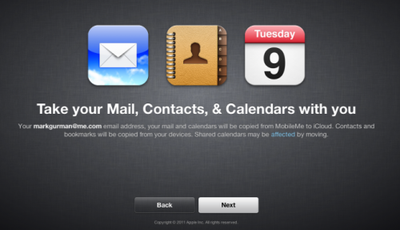 Apple has enabled the MobileMe.com/move url which allows developers to migrate data from MobileMe to iCloud. If you're not a developer, you'll have to wait. Per 9to5Mac, it allows you to move Mail, Contacts, and Calendar information, but the rest of the data won't be making the move:
Apple lets you take your Mail, Contacts, and Calendar information over to iCloud and also tells users that they can continue using iWeb, iDisk, and Photo Gallery up until June 30, 2012. Apple also tells users that the following will no longer be available: Dashboard widget sync, dock item sync, keychains, signatures, mail account rules, mail smart boxes, and mail preferences.
Non-developer accounts are not yet allowed to migrate their data to iCloud.