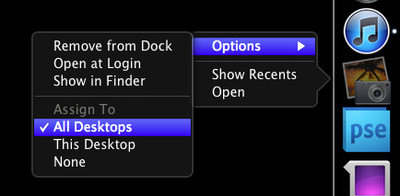 With the introduction of Lion, Apple moved -- or removed entirely -- numerous options and settings.
For more advanced users, the old Expose & Spaces preference panel included controls to adjust what "Spaces" -- now called Desktops -- apps would appear in. For example, I had my Mail program set to display in Space 2, while iTunes would only appear in Space 4. With Expose & Spaces gone, it was tricky to figure out how to adjust where apps would appear.
It's easy, once you know where to look.
Update: Make sure you have multiple desktops open before doing this or else you won't see anything. Enter Mission Control. In the top-right of the screen is a button to create a new desktop. Click that button and create as many desktops as you wish. To delete a desktop space, option-click one of the desktops.
Now, simply right-click (control-click, two-finger-click) on an application icon in the Dock. In the Options menu, you'll see three choices related to Spaces:
- Assign To All Desktops
- This Desktop
- None
Play around with the choices until you get a feel for how they work. I put my instant messaging program into "All Desktops" so I can chat from wherever I'm working at the moment. Safari goes in the first desktop and my RSS reader stays in the second. With the advent of full-screen apps, I no longer need dedicated spaces for Mail and iTunes. They simply go full-screen and it accomplishes the same task.
Thanks Kbmb for the tip about needing multiple desktops!