Apple Researching 'Physics Metaphor' Gestures for Inter-Device Communication
As noted by Patently Apple, a newly-published patent application from Apple reveals an interesting take on the idea of using metaphorical gestures to share data between devices.
Building upon file transfer mechanisms found in such iOS apps as Bump that allow users to exchange contact information, photos, and other data between devices in close proximity, Apple proposes a number of gestures such as "pouring" and "vacuuming" that could add some additional visual interest to the mundane process of data transfer.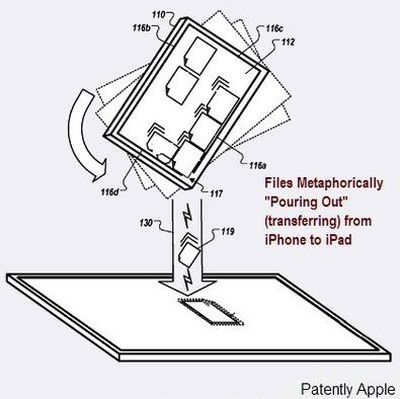 One example presented in the patent application demonstrates how a user could "pour" a set of files to transfer them from an iPhone-like device to a tablet device similar to the iPad. Files displayed on the iPhone's screen could animate the pouring process by appearing to respond to gravity as the iPhone is tipped, and files could behave in differing manners to provide more visual interest, such as by having larger files appear to be heavier than smaller ones and thus moving more slowly in the pouring process.
Apple describes other gestures to initiate the actual file transfer, such as tapping on the device as it is tipped for pouring or requiring a flick or other gesture to overcome a "speedbump" or other barrier and set the files moving to the other device.
Finally, Apple describes how devices could sense their relative locations within a room and allow users to simply flick data toward another device or to make sweeping gestures to broadcast the data to multiple devices in a general direction.
As always, Apple's patent applications should be read primarily for their basic interest and as a view into what Apple's engineers may be thinking about. Many of the ideas discussed in Apple's patent applications never make it to release, especially in those cases where the applications have made it through the lengthy waiting period to publication without the features having already been released.