With the Pegasus R4 and R6 Thunderbolt RAID Enclosures now shipping, the first review units are starting to appear at various publications. Macworld has some early benchmarks comparing a 6-drive RAID 5 Promise enclosure to a 4-drive RAID 5 SmartStore DS 4600. The comparisons aren't entirely equal as the Promise enclosure doesn't support USB or FirewWire, so they had to make do with comparing different enclosures.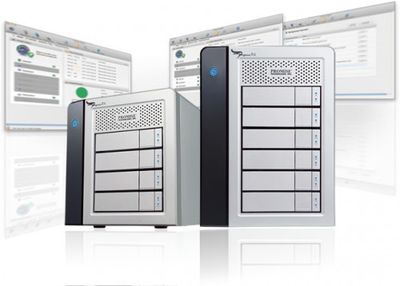 The early results are impressive. Benchmarks showed that the read and write speeds of the Thunderbolt enclosure were 6.8 and 11.5x faster than FireWire 800:
When connected to the iMac, the R6's AJA System Test read scores came in at 566MBps—6.8 times faster than the DS4600 using FireWire 800. Even more impressive was the R6's 644MBps AJA System Test write score, which is 11.5 times faster than the FireWire 800 scores of the DS4600.
Even more real-world tests of file and folder copies benefited with speeds ranging from at least 2x faster.
Macworld does plan to compare against eSATA in the future, and other benchmarks should be emerging over the next few days.