Hulu Complies With Apple's New iOS In-App Subscription Rules Without Sharing Revenue
All Things Digital reports that in the latest update to its Hulu Plus application, television streaming company Hulu has brought itself into compliance with Apple's new In-App Subscription rules, taking advantage of a recent shift in Apple's stance to simply remove an external link to sign up for the paid service rather than offering subscriptions inside the application under a system in which Apple would take 30% of the revenue.
All Hulu had to do was strip out the link that sent potential subscribers to its Web site, because Apple's new rule will ban "apps that link to external mechanisms for purchases or subscriptions to be used in the app."
As initially deployed back in mid-February, Apple's In-App Subscription mechanism allowed publishers to set prices, but also required them to offer the same offers inside their applications as found through external mechanisms. Under the program, Apple would retain 30% of the revenue on subscriptions generated within the applications as a fee for bringing the subscriber to the service. The new terms were set to go into effect on June 30th for existing subscription-based applications, leading many to wonder how services such as Hulu and Netflix would deal with the requirements.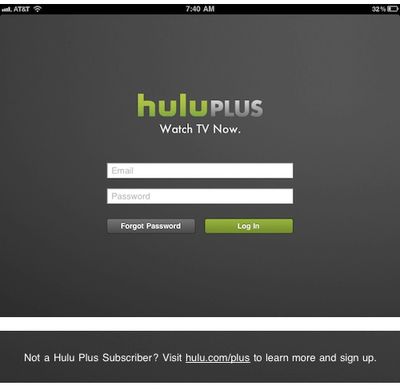 External subscription link text (bottom) removed from Hulu Plus login screen
But with Apple
reversing course
earlier this month, those services now have a much easier path to compliance with Apple In-App Subscriptions terms. Under the revised terms, publishers with subscription programs are not required to also offer In App Subscriptions, provided that they do not link users to external purchasing mechanisms.
Consequently, apps like Hulu Plus can meet the requirements by simply having their subscription links removed from within the app. Hulu loses the benefit of direct link-outs for new subscribers, but does not have to offer In-App Subscriptions that would undoubtedly result in significant amounts of revenue being diverted to Apple. Users interested in subscribing to Hulu will simply have to visit Hulu's site on their own, manually entering the address or finding it through a search engine, in order to sign up.
All Things Digital notes that the solution adopted by Hulu is likely to make its way to a number of other prominent services such as Netflix and Rhapsody, although it is unclear how others such as Amazon's Kindle Store will be able to satisfactorily comply with the new rules going into effect next week without removing a significant convenience factor of being able to purchase individual e-books via link-outs from the app itself.