Dual Screen AirPlay Gaming Demo with Real Racing 2 HD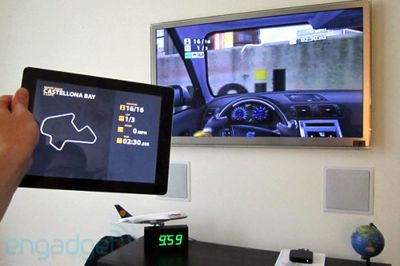 Engadget has a hands on with Firemint's Real Racing 2 HD with support for Apple's AirPlay mirroring feature coming in iOS 5. While you can mirror anything on the iPad's screen to your Apple TV, some game developers have been building in support to provide a different interface on the device itself vs. the screen. This is similar feature to what Nintendo's new Wii U console offers.
For this game (and we imagine many more to come), you use the iPad as the controller -- both while navigating through menus and in race mode -- while the game appears only on your TV (though the tablet does display some vitals, and a map of the track). There's noticeable lag between the iPad and Apple TV when using AirPlay, which may be an issue for games where timing is important, such as Rock Band, but didn't seem to set us back while playing Firemint's racing game.
This ability to display different images on the device and the video out isn't actually new with iOS 5. Several other iOS games such as Max Adventure and Chopper 2 also offer a similar experience under iOS 4. But without AirPlay mirroring feature, users have needed a $29 VGA adapter to take advantage of this feature. In iOS 5, AirPlay mirroring also offers this ability to those with Apple TVs.
iOS 5 is in developer beta at the moment, and will be released to the public this fall.