New Time Capsules to Run iOS on A4/A5 Processors?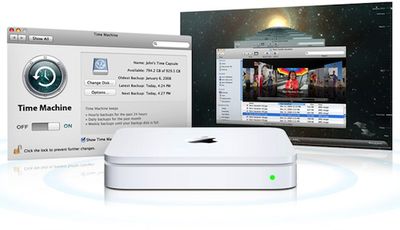 Earlier this week, we noted that a number of Apple's retail stores have run dry of stocks of Time Capsules, AirPort Extremes, and in some cases AirPort Expresses, leading to speculation that a refresh could come at next week's Worldwide Developers Conference. Reports quickly arose claiming that Apple has been known to have at least internally tested new Time Capsules capable of caching software updates for Macs and iOS devices, delivering them quickly to the machines for updating.
In a separate report, Ars Technica briefly notes that it has received word that the new Time Capsule may actually follow the pattern of the Apple TV, taking on an A4 or A5 processor from Apple and running iOS to manage the more advanced functions that could appear in the device.
Our own source tells Ars that the revised hardware is believed to be built around Apple's own A4 or A5 processor, and will run iOS much like the most recent Apple TV model.
Harnessing the power of iOS directly within the Time Capsule device, even if on a scaled-down basis as in the Apple TV, naturally opens the door to further speculation of how Apple could tie together iCloud services with local storage on users' own networks, whether it be caching some iCloud content to the Time Capsule for faster access when on the local network or even pushing some of the Time Machine functions included on the current Time Capsule out to iCloud itself.
Separately, we've heard an unconfirmed tip that iOS 5 may finally be bringing wireless syncing to iOS devices, including the intriguing claim that the wireless syncing could be performed directly with the new Time Capsules, bypassing the need to sync with a specific computer.