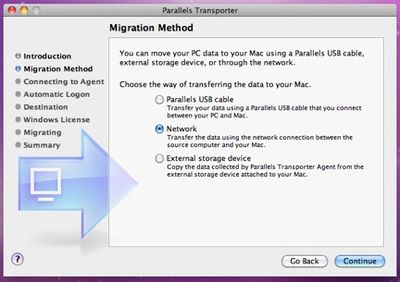 Virtualization software firm Parallels today announced the debut of Parallels Transporter, a new Mac OS X application to help users transition from Windows-based machines to Mac OS X.
The Parallels Transporter app is designed for Mac users who may not need to run Windows on their Mac at all; it is a simple way to bring everything you need from your PC together on your Mac without wasting your valuable time or incurring the expense of hiring a technology service to do the work:

- Parallels Transporter Agent collects data on your PC and uses your wireless network or an external storage device to transfer it to Parallels Transporter on your Mac.
- Parallels Transporter on your Mac receives data from the Parallels Transporter Agent and copies it to the appropriate locations on your Mac. The files stored in your Windows home directory are copied to the corresponding folders on your Mac so they can be accessed and used with compatible Mac programs. Internet bookmarks are copied to Safari or any other default web browser in Mac OS X.
Parallels Transporter also moves Windows-only programs and files into a virtual machine located on the destination Mac. While the software does not include the ability to run the virtual machine, users can decide later to purchase the full Parallels virtualization software to access the data.
Parallels Transporter is available through the Mac App Store for an introductory price of $0.99, a very significant discount off of the regular price of $39.99.