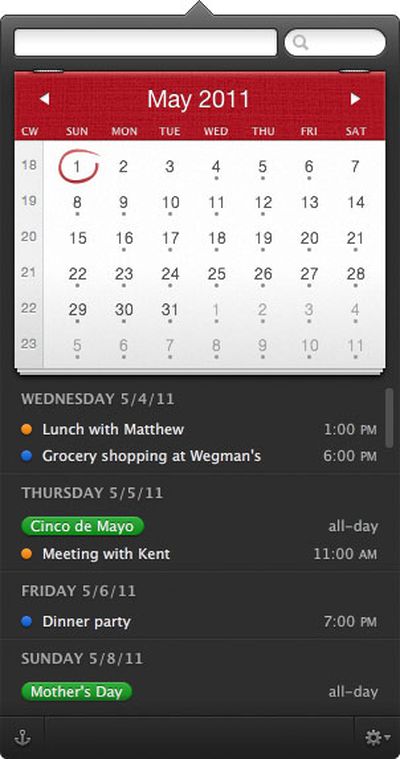 Flexibits has released their new calendar app for the Mac called Fantastical. This natural language calendar assistant allows you to create events by typing in your plans:
Using an advanced natural language engine, Fantastical is extremely expressive, allowing users enter event text in their own style. For example, enter a sentence such as "Lunch with John at 123 Main Street on Tuesday" and Fantastical will translate the sentence into an event and add it to their calendar.
The pre-release
previews
were very positive, commenting on the quick-access as a menu-bar item that lets you quickly enter new items.
What I like most about Fantastical is how quick and accessible it is. It lives in your Menu Bar and you invoke it via a global hotkey (I use command+option+c), or by clicking on the Menu Bar icon, and it appears instantaneously. It is both keyboard and mouse friendly. The power users in the room will be glad to know you can navigate and operate the app without leaving the keyboard — if it were not so then I certainly would not find the same amount of utility from the app.

And what blows me away every time I use it is the entry panel for an event — Fantastical uses a natural language parser in addition to the standard new-event, iCal interface. So far, in my usage, the natural language parsing has been superb; the best I've ever used.
Fantastical is available now through the Flexibits Store or the Mac App Store for an introductory price of $14.99 with a free trial on their website.