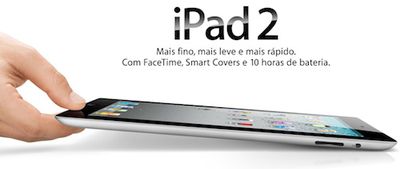 Last month,
word surfaced
that Apple's manufacturing partner Foxconn was seeking to invest as much as $12 billion in Brazil, setting up new manufacturing plants in that country to expand capacity and avoid hefty import taxes for electronics brought into the country for sale. At the time, it was noted that Foxconn was planning to manufacture iPads in Brazil, with a goal of beginning production by November.
Reuters now reports that while there are still hurdles to be overcome before a deal is signed, Foxconn is hoping to accelerate its timetable and begin iPad production in Brazil by July.
Foxconn has moved up its desired start date for assembling iPads in Brazil to July from November, seeking to tap massive demand for the device in Brazil's booming consumer market, according to newspapers Estado de S.Paulo and Folha de S.Paulo. Their reports quoted government officials.
"It's a daring timeline. Whatever is within our reach, we're going to work on making that viable," Science and Technology Minister Aloizio Mercadante told Folha.
While both Foxconn and Brazilian officials are excited about a potential deal, much dealing still remains to be done as Foxconn continues to seek tax breaks and other concessions in exchange for locating its new facilities in the country.