Apple Seeking New Vendor for Improved iPhone Ambient Light Sensor?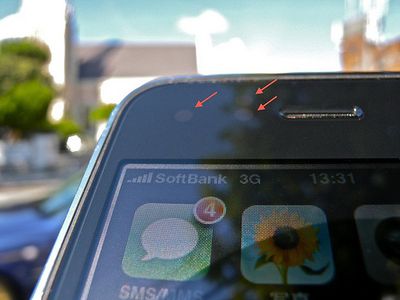 Arrow on left points to iPhone ambient light sensor (Source: ReadWriteWeb)
DigiTimes reports
that Apple is in discussions with two Taiwan-based integrated circuit design firms, Integrated Memory Logic (iML) and Capella Microsystems, for sourcing of components for the company's iOS devices.
The more interesting of the two claims appears to be related Capella, which is said to have delivered new ambient light sensors to Apple for testing and verification. According to the report, Capella could be in a position to begin supplying Apple with such sensors for the iPhone by the end of the year and that the components would likely represent an improvement over existing sensors.
Capella, which ships over one million ambient-light sensors to HTC a month currently, has reportedly delivered its products to Apple for verification as the ambient-light sensors currently used by iPhone 4 have been criticized for some problems, said the sources, noting that Capella may received Apple's orders before the end of the year at the earliest.
iML is said to be in discussions to provide Apple with programmable gamma buffers for the iPad, components which help regulate the luminance of the LCD displays.