Apple Potentially Developing Fitness Center Application for iOS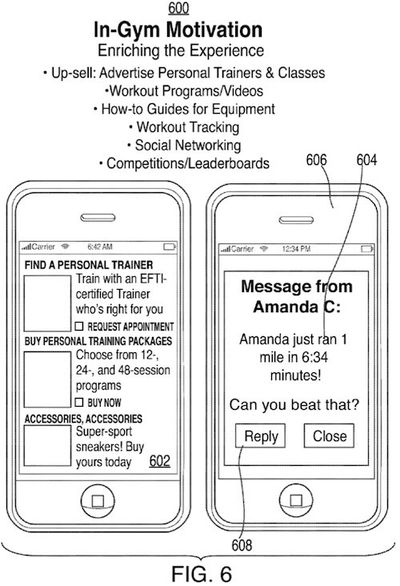 As noted by
AppleInsider
and
Patently Apple
, the U.S. Patent and Trademark today published a
patent application
from Apple describing an iOS application designed to support fitness and personal training functionalities.
The integrated application can provide a full fitness center experience by introducing potential new customer to a fitness center and then motivating them to return to the fitness center as active members. For example, the integrated application can provide functions to introduce new customers to a fitness center, can provide functions to motivate customers to join and actively visit the fitness center, can provide in-gym motivation, and can provide post-workout motivation.
Apple breaks the application down into four categories: introducing users to fitness facilities in their areas, encouraging them to join and participate, motivating them while using the facilities, and post-workout motivation to return and continue their fitness program.

The application offers capabilities to permit fitness facilities to reach out to potential customers with introductory offers and coupons, potential integration with fitness equipment for tracking performance, and social aspects to allow users to motivate each other.
The patent application was filed in October 2009 and is credited to Stan Ng, a longtime Apple product manager and marketing director, and Michael Hailey, a former Apple marketing manager who is now employed at Nike. Apple of course has a long-standing partnership with Nike dating back to pre-iOS iPods to offer Nike+ running and training integration. Apple has also previously expressed interest in developing digital fitness companion software for its portable devices, indicating that the company has been working through a number of concepts for how to potentially enter the market.