Apple's Weighting in Nasdaq-100 Cut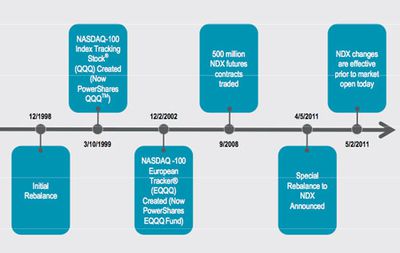 Apple's weighting in the Nasdaq-100 Index
will be cut on May 2nd
to reduce Apple's influence on the stock index.
Apples representation will be reduced to 12.33 percent of the index on May 2, from 20.49 percent, Nasdaq OMX Group Inc. said in a slide show on its website today, after previous rules caused its proportion in the gauge to grow disproportionately. The weightings of Microsoft Corp. and Cisco Systems Inc. will more than double.
Apple's weighting in the stock index is said to be overrepresented at 6x the value of the second largest stock (Microsoft) despite only having a 46 percent larger market value.
The Nasdaq-100 consists of the 100 largest nonfinancial stocks that trade on the Nasdaq. According to Wall Street Journal, over $330 billion worth of assets track the index via exchange-traded funds, mutual funds, options and futures. The move could hurt Apple's stock price due to significant selling pressure as indexes adjust to the new weightings:
The rebalancing is likely to kick off waves of trading in the stock market as money managers scramble to adjust holdings to reflect the new composition of the index. There are more than 2,900 financial products tracking the Nasdaq-100 in 27 countries, Nasdaq says. That includes the $24.4 billion PowerShares QQQ exchange-traded fund, which over the past year has been the sixth most actively traded stock on U.S. exchanges.
The changes go into effect on May 2nd.