Apple Dock Connector to Support DisplayPort, USB 3.0, Thunderbolt?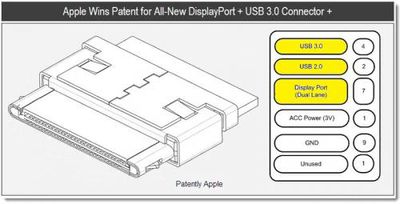 PatentlyApple reveals
a new patent granted to Apple from the US Patent and Trademark Office. The patent describes what appears to be a new dock connector that can support both DisplayPort/USB 3.0.
Apple has been granted a powerful patent that packs quite the wallop. Somehow they snuck a secret patent application through the system for an all-new high speed connector that will combine at least USB 3.0 and DisplayPort. Although the patent illustrates an iPod as being one of the first to adopt this, the patent clarifies that it's for all future Mac hardware as well.
The 30-pin connector has been a staple of Apple's iPod, iPhone and iPad lines as their universal docking connector for syncing and accessories. This patent application was previously spotted during the application phase, but has renewed interest now given Apple's recent commitment to Thunderbolt connector which shares the same physical form factor as DisplayPort.