Apple's Jony Ive Profiled, Rumors of Departure to UK Called False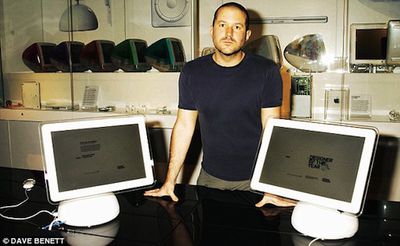 The
Daily Mail
publishes a
lengthy profile
of Apple design guru Jonathan Ive, offering a rare peek into the life of the intensely private Brit behind most of Apple's successful product designs over the last decade or so. The interesting article examines Ive's life and his history at Apple, including a look at the design process that has created such iconic devices as the iMac, iPod, iPhone, and iPad.
Ive's lab is Apple's inner sanctum. Here, touch screens control the glass-sided machines in which new products take form. Desks are bare bar the aluminium sheets that slot together to form the familiar lines of iconic products such as the MacBook Air.
Collectively, the designers obsess over each product, stripping away non-essential parts, reworking tiny details such as LED indicators on the sides of laptops and phones. Ive once spent months working solely on the stand for Apple's desktop iMac; he was searching for the sort of organic perfection found in sunflower stalks.
The article also refutes recent claims that Ive may be leaving Apple to return to the UK.
It is hard to know what is the greater intrigue: recent conjecture that he is preparing to walk away from Apple to relocate to his beautiful Grade II-listed mansion in Somerset so his children can be educated in the UK (false - he is not, and the property is now standing empty); that he will step out of the shadows and assume Steve Jobs' role when the great man stands down (highly doubtful); or what - or perhaps more accurately who - propelled him to leave for the U.S. in the first place and deny Britain the talents of one of the most influential designers of the modern age.
While his name has been brought up on occasion, Ive is not considered to be a serious candidate to succeed Steve Jobs as Apple CEO, given his preference to remain behind the scenes and his focus on design work rather than operational aspects of the company.