Apple Considering Samsung Super PLS Display for Future iPad?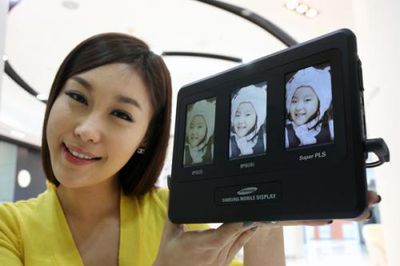 The
Korea Times
claims that Samsung may be supplying Liquid Crystal Display panels for the next generation iPad. (
via 9to5mac
)
According to sources, the company, established in January 2009, is in the final stage of talks on supplying its latest LCD panels for Apples iPad 2, which is expected to be released later this year.
Apple is said to be working on expanding its list of suppliers for the iPad LCD to many firms, including LG Display and others in Japan and Taiwan, other than Samsung.
The article, however, goes on to say that Apple may also be considering the use of Samsung's Super Plane to Line Switching (PLS) technology that was just unveiled in November of 2010.
It was further reported that Apple is interested in Samsung Mobile Displays Super Plane to Line Switching (PLS) displays ― first unveiled in November last year ― which enable the company to deliver more and improved viewing angles.
The main advantage of the PLS display is improved viewing angles over existing IPS displays which are currently used in the iPad. The new screen is also said to be 10% brighter and 15% cheaper to produce, but Samsung has 30 key patents for the technology, so we're not sure how this fits in with Apple's plans to secure multiple suppliers for their LCDs.