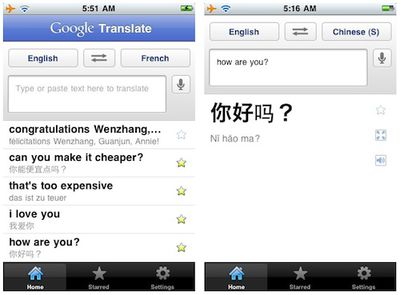 Google today
announced
the release of a new
Google Translate
[
App Store
] application for iOS devices, offering such features as translation of spoken words and phrases and the ability to listen to translations spoken aloud.
Speak to translate
The new app accepts voice input for 15 languages, and - just like the web app - you can translate a word or phrase into one of more than 50 languages. For voice input, just press the microphone icon next to the text box and say what you want to translate.
Listen to your translations
You can also listen to your translations spoken out loud in one of 23 different languages. This feature uses the same new speech synthesizer voices as the desktop version of Google Translate we introduced last month.
Google Translate also offers the ability to enlarge translated text to full-screen size for ease of reading and showing to others.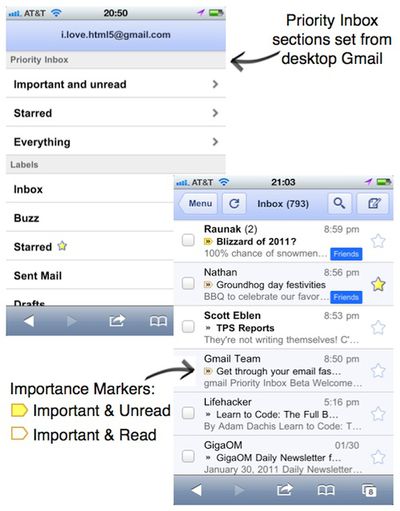 The new app release comes just after yesterday's launch of
Priority Inbox
for Gmail when accessed through the web app interface for mobile devices. The popular feature that rolled out for the standard Gmail interface late last year automatically identifies important messages and flags them for priority review to help wade through ever-increasing amounts of email.
Priority Inbox helps combat information overload by automatically identifying your important messages so you can focus on those first. Until today it was only available on the desktop and on Android devices.
Now, once you set up Priority Inbox in the desktop version of Gmail, you'll see Priority Inbox sections when you visit gmail.com from your phone's browser and click on the 'Menu' screen. You'll also see importance markers in your inbox, so you can quickly identify which messages are important.