Apple Rakes in Over Half of Mobile Phone Industry's Fourth Quarter Profits
An interesting series of charts from Asymco reveals that, despite a worldwide mobile phone unit market share of only 4%, Apple accounted for approximately half of the industry's profits for the fourth quarter of 2010.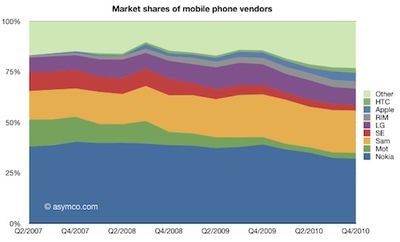 4Q10 unit-based market share for mobile phone vendors
With only a small unit market share, Apple has managed to achieve its remarkable profits by focusing on the high-priced and rapidly-growing smartphone market while doing so at significant profit margins. That 4% unit share consequently translates to over 20% of industry revenue and just over 50% of industry profits.

4Q10 profit share for top eight public mobile phone vendors
Asymco
's study based its calculations of revenue and profit shares on data compiled from reports issued by the top eight publicly-traded mobile phone manufacturers: Apple, HTC, LG, Motorola, Nokia, Research in Motion, Samsung, and Sony Ericsson. While included in the "Other" category for unit market share, companies such as Chinese manufacturer ZTE, which edged out Apple for fourth place in the quarterly unit sales rankings, are not included in the revenue and profit data as such information is not publicly available.
The results demonstrate the continuation of a trend that had seen Apple's share of mobile phone industry profits rise from 20% in 2008 to 39% for the first half of 2010. Asymco published a similar estimate of 50% profit share for Apple in the third quarter of 2010.