Verizon iPhone Wireless Hotspot to Cost an Additional $20/Month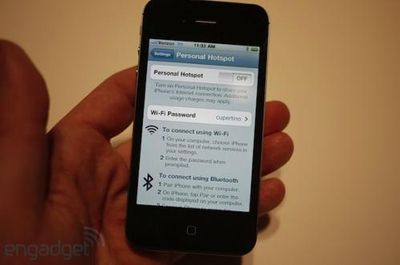 Image from
Engadget
Macworld received
official word from Verizon about the pricing of the new wireless hotspot feature announced earlier this month.
Raney said that Verizon iPhone owners will be able to take advantage of the 3G wireless hotspot feature for an extra $20 per month on top of the iPhones required voice and data plans--thats the same price that applies to current Verizon smartphone owners.
The wireless hotspot feature allows Verizon iPhone users to share their 3G internet connection over Wi-fi to up to 5 other devices, such as your laptop or iPad. This $20/month fee would be on top of the existing voice and data plans and is said to include 2GB of additional data.
AT&T presently offers single device tethering for the same cost ($20/mo extra) and is said to be exploring offering the same wireless hotspot tethering. This feature will be included in iOS 4.3, but will be dependent on carriers to provide support for it.