Apple Taking Heat for Switching to Custom Screws on iPhone 4 and Portables
Kyle Wiens of repair site
iFixit
published a
blog post
today outlining Apple's increasing usage of custom "pentalobular" screws on the iPhone and other devices, with the company presumably making the shift in order to make it more difficult for users to open up their devices for repair or modification purposes.
Apple is switching to a new type of tamper-resistant screw. This is not a standard Torx, and there are no readily available screwdrivers that can remove it. This isn't the first time they've used this type of screw - it first appeared in the mid-2009 MacBook Pro to prevent you from replacing the the battery - and Apple is using a similar screw on the outer case of the current MacBook Air. This screw is the primary reason the 11" MacBook Air earned a lousy repairability score of 4 out of 10 in our teardown last October.
Apple chose this fastener specifically because it was new, guaranteeing repair tools would be both rare and expensive. Shame on them.
Wiens notes that there "isn't a single reputable supplier" offering the screwdrivers used by Apple technicians to handle the pentalobular screws.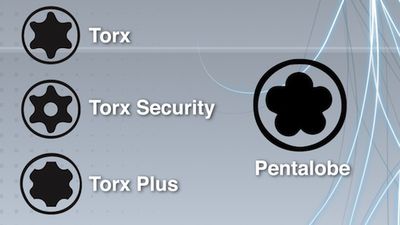 Apple has used the pentalobular screws in iPhone 4s sold in some international markets since the device's release, although iPhone 4s sold in the U.S. have for most of the device's history used standard Phillips screws more accessible to users. But numerous reports have surfaced from users who have taken their iPhones in for service only to discover that Apple has replaced their Phillips screws with the new pentalobular ones.
In order to assist customers interested in opening up their iPhone 4s, iFixit is offering an "iPhone 4 Liberation Kit" priced at $9.95, containing a screwdriver that will fit the new pentalobular screws (although not an exact fit), two replacement Phillips screws, and a regular #00 Phillips screwdriver.