Next Generation iPhones Referenced in iOS 4.3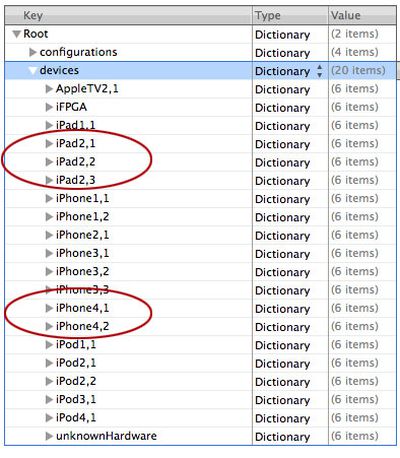 As first noted
by Engadget
, the latest iOS 4.3 developer build contains model references to as-yet unreleased iPhone and iPad models. The new designations include:

iPad2,1
iPad2,2
iPad2,3
iPhone4,1
iPhone4,2
For reference, the first generation iPad carries a model number of "iPad1,1" while the AT&T iPhone 4 carries the "iPhone3,1" model number. These new designations likely represent the next generation iPad and iPhone. It seems likely the second digit represents hardware differences between models -- such as a Verizon iPhone and AT&T iPhone. The iPad is also believed to be coming to both Verizon and AT&T, so that may explain at least a few of the different model numbers.
The iPad 2 is believed to be coming out in the next month or so, while the iPhone is traditionally refreshed in the summer during WWDC.