CES 2011: Sphero Robotic Ball Controlled from iPhone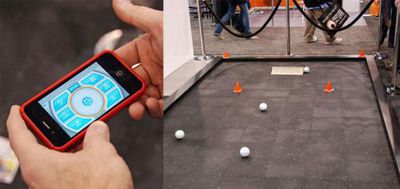 Orbotix
was at CES showing prototypes of their robotic ball that is controllable through your iPhone or iPod Touch. The product is called Sphero and is still about 6 months away from market. The baseball-sized device connects to your iPhone via Bluetooth with a free downloadable app. On the CES show floor they had an area set up to test out the early models.
Orbotix sees Sphero as a development platform and expects that 3rd party developers will be able to create interesting new games and apps around the system. The company is working on an
API
to open up to developers for both iPhone and iOS. Developers could come up with games for use with one or more Spheros. Examples include soccer, bowling, or a king of the hill game. The Sphero controls took some getting used to, and also includes a short "boost" mode that gives an extra burst of speed (at the expense of controllability).
Sphero is expected to hit the market in late 2011 for a price under $100. A few free games are likely to be available for the device at launch, while 3rd party game pricing will depend on those developers.