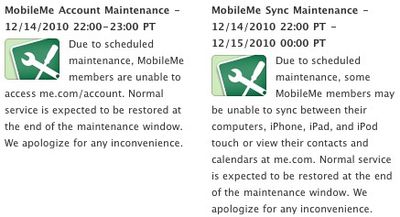 Users of Apple's MobileMe service should be aware that the service will be undergoing maintenance later today, with MobileMe account maintenance scheduled to take place from 10:00-11:00 PM Pacific time tonight, while maintenance on MobileMe syncing services is set for 10:00 PM until midnight.
Due to scheduled maintenance, some MobileMe members may be unable to sync between their computers, iPhone, iPad, and iPod touch or view their contacts and calendars at me.com. Normal service is expected to be restored at the end of the maintenance window. We apologize for any inconvenience.
Scheduled maintenance windows on MobileMe are not unusual and typically result in no visible changes for users, although they are occasionally accompanied by the rolling out of new features and visual tweaks.