T.J. Maxx Offering 16 GB Wi-Fi iPads for $399 [Updated: Marshalls Too]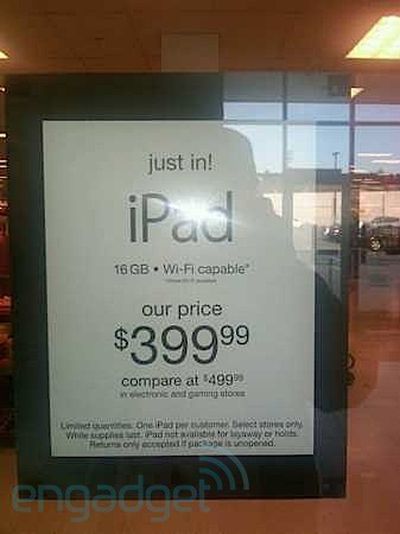 Engadget reports
that it has received word that discount department store chain T.J. Maxx is carrying the 16 GB Wi-Fi iPad in at least some of its stores, notably pricing the devices at $399.99, nearly $100 off of Apple's price.
We made a couple phone calls and found some at stores in Ohio and New Jersey (including one who said they were holding their stock back for Black Friday) while we struck out in other parts of the country. Still, if you're looking to drop cash on one of these guys, we'd make a quick call to your local outlet before heading to the Apple Store.
Based on the images presented, the offer appears to be legitimate, but it is unclear how the retailer is able to offer the iPad at such a low price.

Warehouse club chain Sam's Club recently
began carrying
the iPad in a number of its stores, offering Wi-Fi models at a $12 discount from Apple's prices and Wi-Fi + 3G models at a $20 discount.
Update: A post from early last week by a blogger who attended an event at T.J. Maxx headquarters had indicated that such an offering was in the works.
PSST, TOP SECRET ANNOUNCEMENT: TJ Maxx will be selling iPads in select stores across the country, starting this week. Since TJ Maxx promises to offer products at 20%-60% below retail, the president assured us the iPads will be discounted.
Update 2: As noted by I4U News, T.J. Maxx has confirmed on its official Twitter account that the deal is in place.
The rumors are TRUE! Select (unadvertised) locations/limited quant
Update 3: T.J. Maxx sister chain Marshalls is apparently also offering the same deal. A MacRumors reader notes that several Marshalls stores in Florida are stocking the entry-level iPad and are reportedly receiving 100 iPads per day over a three-day period.