Apple Pays '7-Figure Settlement' in 'iAds' Trademark Lawsuit?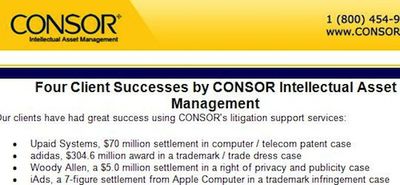 Snippet of Web posting mentioning '7-figure settlement' for 'iAds' trademark
CNET reports
that Apple appears to have settled a trademark lawsuit over the term 'iAds', reportedly paying a firm in excess of $1 million for the rights to the name it has used for its mobile advertising platform for the past several months. The revelation comes in an apparent slip from Consor Intellectual Asset Management, a firm that helps companies worth intellectual property issues, in the form of a promotional posting in which Consor touted its role in achieving the settlement for a client.
We've seen Apple caught up in plenty of these trademark disputes before and just like many of those, this one was settled without a peep from either party about the terms. That likely would have been the last of it but on Thursday, Consor, a company that helps evaluate intellectual property, posted a release to the Web titled "Consor Intellectual Asset Management Secures Success for Four Clients."
In a teaser line under the headline, the company wrote: "iAds, a 7-figure settlement from Apple Computer in a trademark infringement case."
Oddly, when CNET contacted Consor about the deal, the company initially denied that any such announcement had been made. Upon being informed that the information was freely available on the web, a Consor representative claimed that some of the information "wasn't accurate".
The most likely explanation for Consor's attempts to distance itself from the release is that it erred in publishing details what was intended to be a confidential settlement with Apple over the trademark issue, although it is possible that Consor was in fact incorrect about the amount of money involved.