Apple Patent Application Discloses Process for Creating Scratch-Resistant Stainless Steel
An Apple patent application published yesterday has been gaining some attention for its discussion of a system for creating a nitride layer on the surface of stainless steel components to assist in providing durability and scratch resistance while allowing the natural color and texture of the stainless steel to remain visible.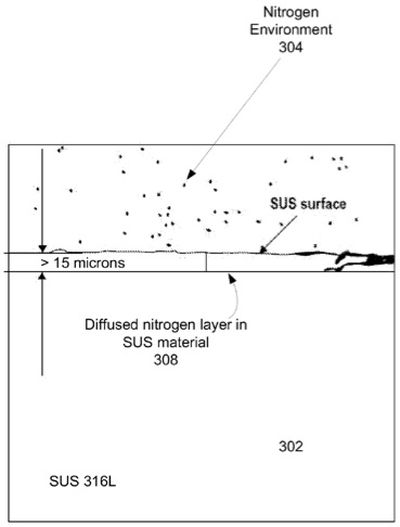 Cross section of nitrided stainless steel
Apple notes that the nitrided stainless steel components "can be used for a variety of applications, such as to form outer housings for a laptop computer, media players, cell phones or other similar devices." According to Apple's patent application, the stainless steel components are immersed in a high-temperature, nitrogen-based salt bath for up to an hour an half, allowing for nitrogen to penetrate the surface of the steel and combine with chromium atoms in the stainless steel alloy to create a ceramic nitride layer 15-30 microns thick on the surface of the steel.

While some reports have suggested that Apple is considering using the technology in future products, the nitrided stainless steel is likely already in use on the stainless steel band of the iPhone 4 that has garnered significant attention as part of the antenna reception issues experienced by some users. The patent application describing the technology was filed in April 2010 but is essentially identical to a provisional patent application that was filed in April 2009.