Office for Mac 2011 Now Available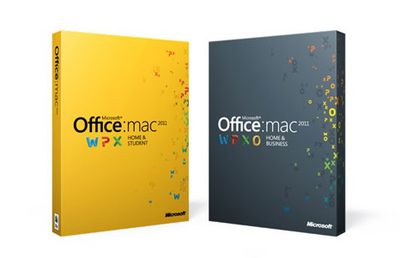 Microsoft today
announced
that
Office for Mac 2011
is now officially available, offering consumers a number of
new features
in the company's flagship productivity suite.
According to Wilfrid, three-quarters of all Mac users have Office installed on their machines. "That's the vast majority of Mac customers counting on Microsoft for a critical piece of their computing needs," he says. "Mac users need Office because it helps them work with the Windows world."
Wilfrid is proud of that statistic, which he says highlights the importance of the relationship between the two companies. Today the relationship takes another step forward as Microsoft releases Office for Mac 2011, the company's productivity software suite tailored for the Mac operating system. Mac users can now install the latest versions of Word, Excel, PowerPoint, and, for the first time, Outlook. Office 2011 is available in 13 languages around the world, and by November the suite will be available in more than 45 countries.
Microsoft's Office for Mac site offers a tour of the new suite, as well as highlights of the changes included. One of the most significant changes is the replacement of Entourage with Outlook for managing email, calendars, and contacts. Outlook is included with Home & Business versions of Office 2011.
With today's launch, Amazon is offering significant discounts on Office for Mac 2011 packages:
- Microsoft Office for Mac Home and Student 2011 - Single License ($109.99)
- Office Mac Home and Student 2011 - Family Pack (3 Licenses) ($129.99)
- Microsoft Office for Mac Home and Business 2011 - 1 Pack ($174.99)
- Office Mac Home and Business 2011 - 2 License Pack ($239.99)
Note: Purchases through these links financially benefit this site.
Update: Apple has also sent an email to customers on its mailing lists informing them of the Office 2011 launch: