New Apple Retail Store to Offer 'Genius Lounge' Mall Kiosk?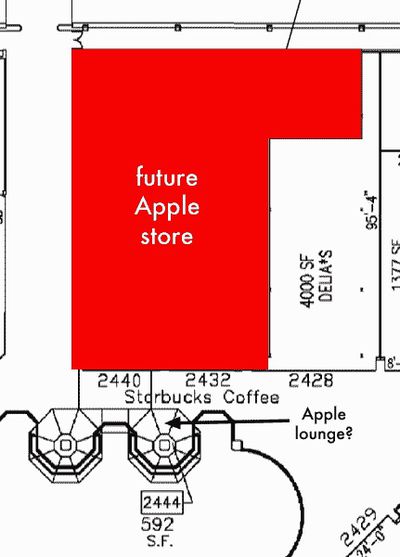 Schematic for Apple's new St. Louis Galleria retail store
ifoAppleStore reports
that a new Apple retail store currently under construction in the St. Louis Galleria may offer a unique feature: a mall kiosk in front of the store serving as a Wi-Fi lounge and check-in area for Genius Bar appointments. Apple will reportedly take advantage of a permanent kiosk being vacated by Starbucks directly in front of the new store's location to offer the feature, a first for the company.
According to mall observers, Starbucks is soon moving its coffee sales operation to the second floor, outside the entrance to the Nordstrom store that opens in September 2011. Apple will then reportedly occupy the 592 square-feet permanent kiosk as a Genius Bar check-in space, Wi-Fi lounge and/or training space.
The new Apple retail store, which will reportedly be the largest mall-based store in the company's chain, is replacing a much smaller mini-store currently in the mall which registers as one of Apple's best-performing locations.
The report notes that Microsoft has employed a similar "lounge" concept in front of its retail store in Mission Viejo, California.

Workers laying floor tiles at Apple's new St. Louis Galleria store