AT&T CEO Reports 500,000 iPads In Use on Carrier's Network [Updated]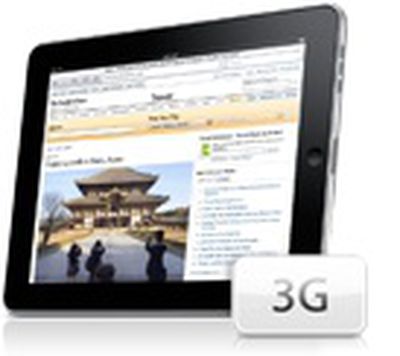 Reuters reports on comments from AT&T CEO Randall Stephenson claiming that the U.S. carrier has seen about 500,000 iPad customers connect to its network. While the total number of 3G-capable iPads sold in the U.S. is unknown because Apple does not break down sales reports by model or country, at least one analyst thinks the number appears low considering Apple's overall sales of 3.27 million iPads last quarter and almost another entire quarter under the company's belt.
Pacific Crest analyst Steve Clement said this could indicate that many iPad purchasers aren't bothering to connect the device to the Internet using the AT&T network.
Since operators such as AT&T are expecting strong growth from gadgets such as tablet computers, this trend could mean the device category will represent less business than expected.
"Half a million at this point would seem low," Clement said.
While the 3G-capable iPad models carry a $130 price premium over their Wi-Fi-only counterparts, some customers may simply be finding that they do not take their iPads out of the home as often as they had originally thought, while others may simply have not planned to activate the service initially but purchased 3G-capable models anyway in order to "future proof" themselves should they find their plans at a later date. AT&T's contract-free iPad data plans allow customers to simply sign up for the service when needed.
Update: We've been reminded that AT&T announced 400-500,000 iPad activations back in July, so it seems that Stephenson may have been sharing old data in his recent comments.
Update 2: We've now heard from an AT&T representative that Stephenson was in fact simply repeating the number from the 2Q 2010 earnings release discussion, rounding the figure up to the higher end of the original range.