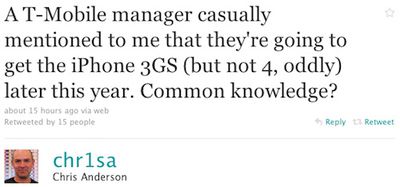 Wired
editor-in-chief Chris Anderson yesterday
tweeted
that he had been told by a "T-Mobile manager" that the carrier will begin offering the iPhone 3GS "later this year", but that the iPhone 4 will not be offered.
A T-Mobile manager casually mentioned to me that they're going to get the iPhone 3GS (but not 4, oddly) later this year. Common knowledge?
The tweet is bizarre on a number of levels, beginning with Anderson's apparent ignorance of the status of iPhone carrier offerings and extending to his choice of using Twitter to share the news rather than turning to his own staff to verify the current rumor mill status and/or pursue the tip.
It is also unknown what Anderson means by a "T-Mobile manager", as a store manager would almost certainly not be privy to such information until a public announcement was made, and retail store employees are notorious for spreading incorrect information.
The rumor itself is also rather odd, as it has T-Mobile's offerings being limited to the older iPhone 3GS model, a move which would not be likely to spur tremendous interest. The existing iPhone 3GS is also apparently not compatible with the frequency bands used by T-Mobile's 3G network, despite the carrier using the same GSM technology as AT&T and the rest of Apple's iPhone carrier partners around the world.
Given the number of oddities with this report, we are placing little faith in it and are publishing it on Page 2 primarily for interest and discussion.