Apple Spent Nearly $1 Million on Google Search Advertising in June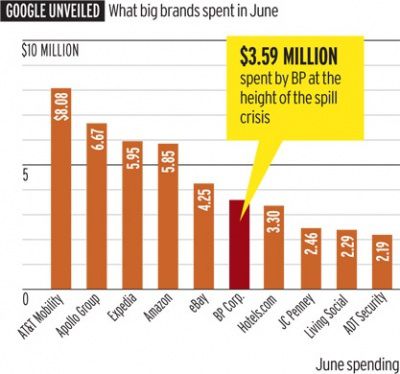 Ad Age reports
that it has obtained an internal Google document detailing expenditures made by other companies during the month of June for advertising in its search results. According to the data, Apple spent nearly $1 million in June on advertising through Google.
While the amount appears to be a significant sum at first glance, a number of companies committed more resources to Google search advertising than Apple did, with 47 companies registering more than $1 million in spending. Interestingly, the top spender was AT&T Mobility, which laid out over $8 million for the month.
By comparison, one of Google's top advertisers that month, AT&T Mobile, spent more than $8 million on AdWords in June, a big month for the company, which was supporting the launch of iPhone 4. (AT&T is the third-largest U.S. advertiser, according to Ad Age DataCenter; it spent $2.8 billion on measured media -- almost $1.3 billion on TV alone -- in 2009. The company declined to comment on its search spending.) Other big June spenders included Apollo Group, the company behind The University of Phoenix, online travel site Expedia, eBay and Amazon, which all spent over $5 million apiece on search.
The data obtained by Ad Age includes huge brands such as GM, Walt Disney, Eastman Kodak and BMW, which appear to have spent less than $500,000 in June. Tech rival Apple spent just under $1 million on search during the month, as did chip maker Intel.
It is unclear from the single snapshot obtained by Ad Age whether this level of activity is typical for Apple (and AT&T), as the end of June saw the launch of the iPhone 4 in the U.S. and several other countries. Having been introduced at Apple's Worldwide Developers Conference, it seems likely that the iPhone 4 was the subject of relatively heavy promotion by Apple and AT&T, driving spending higher normal.