Twitter for iPad Offers a Fresh New Interface
Tonight Twitter released a new update to their popular Twitter application that makes it a Universal app with native support for the iPad's large display. While native support has been a long requested feature for the official Twitter app, the company has also implemented a number of new interface features that seem quite natural on the iPad's large screen.
The most obvious feature is the use of movable Panes that allow you to actively manipulate content around the screen. Panes can be swiped left/right to move to cover or expose other panes and works surprisingly well.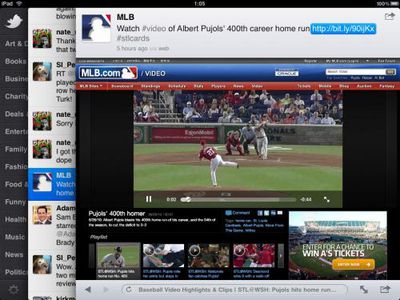 A
TechCrunch review
explains the system well:
What Twitter has done is create an amazing user experience for reading information. This is thanks to an intuitive user interface that layers on top of itself. So, for example, if I click on a link in my tweet stream, Ill have a new layer that rolls over to show that webpage in a customized browser window. If you've used Flipboard, it's somewhat similar, but better because its much easier to go back to where ever you previously were before you clicked the link. You simply swipe something to the side to move it temporarily or swipe it again to get it off the screen (in portrait mode anyway, where there's less space).
Beyond that, the Twitter app also incorporates multi-touch gesture support to provide useful but more hidden functionality. Pinch-zoom can be used on a tweet to get more details about the user. Meanwhile, two-finger drag down on a tweet instantly shows the previous replies.
Even if you're not a regular Twitter user, it's probably worth a peek to see their take on an iPad user interface. As
Engadget notes
, we also expect other iPad apps will start adopting these user interface features.
Twitter is a free download on the iTunes app store.