Survey Finds Apple Most Popular Notebook Brand Among U.S. College Students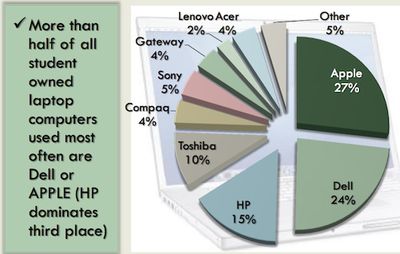 Over the weekend,
Fortune reported
on data collected by research firm Student Monitor showing Apple holding down the #1 spot among notebook computer manufacturers favored by U.S. college students. In its most recent survey of 1,200 students, the firm found that 27% of student-owned notebooks were Macs, compared to 24% for second-place Dell. Apple also fares well looking ahead to the future, with 47% of those students planning to purchase a new notebook intending to buy a Mac.
Here, according to managing partner Eric Weil, are the facts:
- 95% of college students interviewed this spring owned at least one computer (83% owned a laptop, 24% a desktop, 15% both)
- Among the laptop owners, 27% owned Macs
- Among the desktop owners, 45% owned a Dell (DELL) or HP (HPQ) and 14% a Mac
- Among those who planned to purchase a new computer, 87% planned to buy a laptop. And among those students 47% planned to buy a Mac.
Fortune positions the data as a debunking of a report from analyst Trip Chowdhry last week claiming that 70% of incoming college freshmen were opting for Macs. Chowdhry claimed to have obtained his data from a survey of five universities, but did not disclose the names of the schools or the number of students surveyed.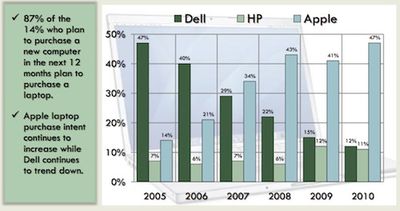 While Apple's leadership position in the notebooks category is notable even if not at the 70% level previously claimed, perhaps even more striking is the shift in student purchasing plans over just the last few years, with Apple's 47% share of planned purchases in 2010 dominating Dell and HP's shares in the 11-12% range and a complete flip from as recently as 2005, when Dell commanded 47% of the planned purchases and Apple sat at only 14%.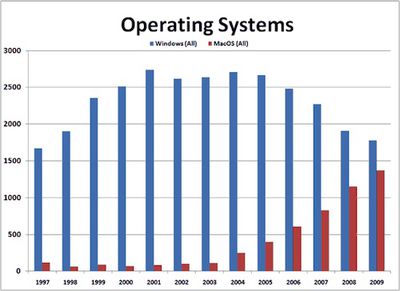 One example of a university where the popularity of Macs has taken off is the
University of Virginia
, where over 43% of incoming freshmen in 2009 owned Macs, up from
37% in 2008
and quickly closing the gap on Microsoft's long-standing dominant position. The University of Virginia's survey also showed the utter dominance of notebooks over desktops among its students, with over 99% of computers owned by incoming freshmen being notebooks.