Apple to Open Covent Garden Retail Store in London on August 7th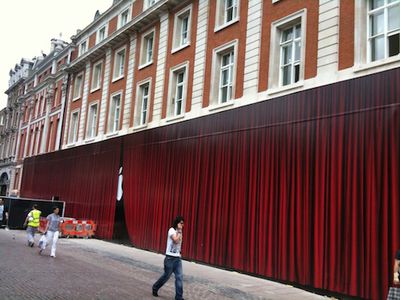 Apple has officially announced the grand opening of its
new retail store
in the Covent Garden district of London, with the store set to open to the public on Saturday, August 7th at 10:00 AM. The store appears to be Apple's largest by total square footage, and will inhabit a restored historic building in the district's popular shopping area.
The London Evening Standard reports that the store will encompass a total of four floors, although a considerable portion of the space is reported to be set aside for meeting rooms and offices for Apple corporate staff.
Plans for the store obtained by the Evening Standard show it will cover four floors, although only two are likely to be accesible to the public. It features a glass roof over a courtyard originally built so horses could make deliveries easily to the building, which dates from 1877. Customers will enter through an eight-bay arcade marked by 20-foot stone arches and lit with restored gas lamps.
The firm has been painstakingly restoring the building for months, even removing a set of brick arches piece-by-piece, photographing and numbering them before rebuilding them onto a floor lowered by just four inches.
Located only about a mile from Apple's existing Regent Street flagship store that has been named the most profitable retail store in London on a per-square-foot basis, the new Covent Garden location is expected to ease some of the heavy traffic and long waits experienced by customers at the Regent Street store.