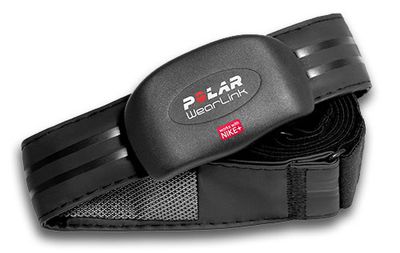 Running the risk of having the news swamped by all the WWDC goings-on today, Nike and Polar have
announced
the launch of a new
Polar WearLink+ heart rate monitor
compatible with the Nike + iPod system for the fifth-generation iPod nano.
Nike, Inc and Polar, the market leader and pioneer in heart rate training technology, have introduced the Polar WearLink+ that works with Nike+. This new product works with the Nike+ SportBand and the Nike+ iPod Sport Kit, enabling users to run and train with heart rate monitoring for the first time.
This exciting new piece of equipment is worn comfortably round the chest and transmits the user's heart rate wirelessly to their Nike+ iPod Sport Kit or Sportband. It will improve the training experience of Nike+ users helping them to understand how hard they are working in any given run. Users can see their beats per minute while they run with their Nike+ SportBand, or hear spoken feedback of their BPM during their Nike+ iPod workout. And after training, heart rate data can be transferred to the nikeplus.com web service. Users can track how long they ran in their target heart rate zone and see their heart rate progress over time.
The new monitor offers dual compatibility with both the Nike+ system and most Polar training computers, as well as with Polar-compatible fitness equipment, offering users several options for tracking their performance.
The Polar Wearlink+ is currently available through Nike and is priced at $69.95. The device will also be available through authorized Polar retailers, Nike-owned retail stores and through the Apple Store.
Plans for a Nike+ heart rate monitor compatible with the fifth-generation iPod nano were revealed last September in the user manual for the new iPod nano, and a Nike representative disclosed last month that it was finally due for launch on June 1st.