Apple's Lead in U.S. Music Sales Continues to Increase as iTunes Gains and Wal-Mart Falls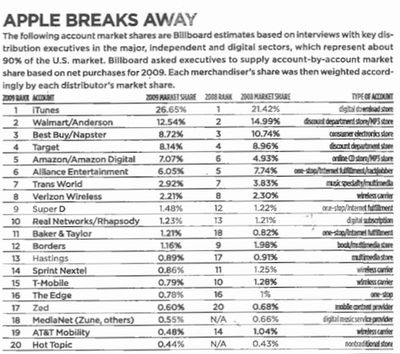 Image courtesy of Fortune
Billboard reports
on data for the full-year 2009 showing Apple's iTunes Store as the largest distributor of music in the United States with 26.7% of the market, up from 21.4% in 2008 and 12.7% in 2007. Apple's lead was further extended by second-place Wal-Mart's drop from 15% to 12.5%.
Last year's share gain was helped by Apple's embrace of variable pricing on digital tracks. But it remains to be seen if iTunes can continue to expand its market share this year, given that year-to-date digital track sales in the United States are down almost 1% from the same period last year, according to Nielsen SoundScan.
Last August, NPD reported Apple's share of the U.S. music market at 25% for the first half of the year, but recent comments from music industry executives suggest that iTunes' growth may be slowing.
Apple documented its climb up the U.S. music sales charts in a series of acknowledgements at keynotes and other events over the years, culminating with the company grabbing the top spot in early 2008.