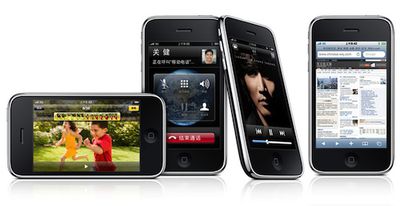 IDG News Service reports
that Chinese regulators have approved the required frequency ranges for a new iPhone offering the Chinese version of Wi-Fi, a feature the device has lacked since its
launch
there last October.
Chinese regulators last month approved the frequency ranges used by a new Apple mobile phone with 3G and wireless LAN support, the Web site of China's State Radio Monitoring Center shows. The device appears to be an iPhone and uses GSM and the 3G standard WCDMA, just like iPhones currently offered in China by local carrier China Unicom.
According to the regulatory agency, the new iPhone supports WAPI (WLAN Authentication and Privacy Infrastructure), a homegrown Chinese security protocol.
Apple must still receive a network access license before launching the new iPhone model for sale. Representatives for Apple's carrier partner China Unicom had indicated at the time of the iPhone's original launch there that they had hoped for the release of a Wi-Fi-capable version by the end of 2009, but the process is clearly taking longer than originally anticipated.