27-Inch iMac Firmware Updates Address High Processor Usage, Display Backlight, and Target Display Mode Issues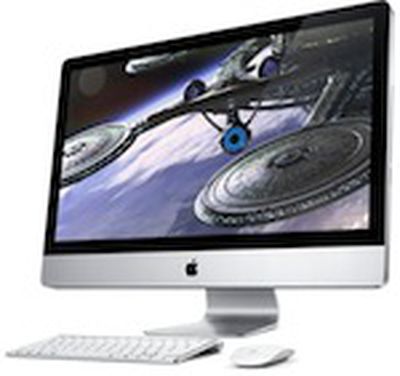 Apple today continues its barrage of updates with the release of a pair of firmware updates for its 27-inch iMac models addressing a trio of issues.
27-inch iMac EFI FW Update 1.0, weighing in at 2.1 MB and requiring Mac OS X 10.6.3, is recommended for all quad-core 27-inch iMacs and addresses a pair of issues related to high processor usage and display backlighting.
- Resolves an issue that sometimes caused high processor utilization while playing audio through the headphone output mini-jack.
- Resolves an issue that prevented the display backlight from turning on after powering on the iMac.
The 27-inch iMacs are not the only current Mac models to have experienced problems with processor performance during audio-related tasks, as Apple's Mac Pro line received a software update in mid-February to address its own issues with heat and performance while handling audio-related tasks.
Apple's other firmware release for the 27-inch iMac today, known as 27-inch iMac SMC Firmware Update 1.0, makes unspecified compatibility fixes to Target Display Mode. The feature, currently available only on 27-inch iMacs, allows the machine to be used as a secondary display via its Mini DisplayPort connector. The update weighs in at 397 KB and requires Mac OS X 10.6.3 and the 27-inch iMac EFI Update 1.0 also released today.