Apple Ramping Up Hiring for North Carolina Data Center
As noted by 9 to 5 Mac, Apple has begun ramping up hiring for its new data center in Maiden, North Carolina, posting ten new job openings at the site over the past few days. While rumors have suggested that the new $1 billion center might be used to support expanded cloud computing efforts, the new postings are primarily related to the technical operation of the data center and thus provide little insight into Apple's plans for the site.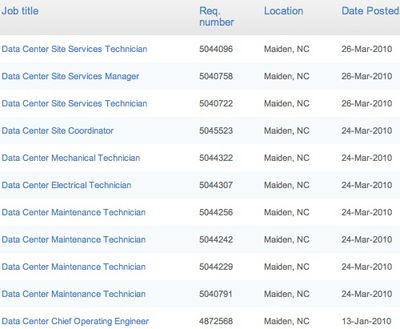 In addition to this week's new postings, Apple has ten other active job openings likely related to the project that were posted over the past two months, listing them as being located in Charlotte and Hickory, North Carolina, the two cities closest to Maiden. This week's haul, however, doubles the number of currently open positions and suggests that the company may be nearing completion of construction on the project.
Last month, aerial footage of the massive data center surfaced showing work well underway on the project.