Apple Already Running Low on iPad Supplies for Launch Day In-Store Pickup Reservations?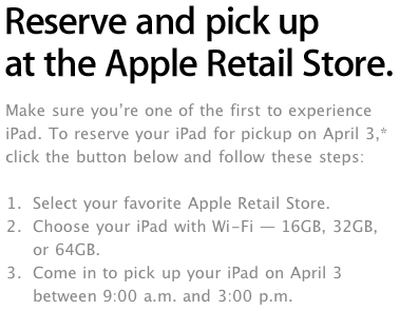 MacDailyNews notes
that multiple iPad customers who placed pre-orders for Wi-Fi iPad models and are looking to change those orders to in-store pickup reservations have been told by Apple representatives that customer response to the iPad has been "so overwhelming" that newly-placed reservations may not be available on the launch day of April 3rd.
Multiple iPad buyers have been told that in order to do such a change, the delivery order would have to be cancelled and a new in-store pickup order completed, but that iPad orders (which began this morning at 8:30am EST) have been "so overwhelming" that new iPad orders may not be available for in-store pickup on April 3.
iPad pre-orders have reportedly been brisk and in-store pickup reservations are likely similarly strong. We've heard that one non-flagship store had already seen nearly 100 reservations for Wi-Fi iPads as of earlier this afternoon, divided roughly equally among the three capacities although weakest in the mid-level 32 GB model.
With approximately 220 U.S. retail stores, Apple may consequently have received on the order of 20,000 reservations in addition to the tens of thousands of pre-orders in the first six hours of availability. It is impossible, however, to extrapolate performance from a single data point with any real degree of accuracy, and so observers will undoubtedly continue to try to piece together various pieces of information to develop a picture of early iPad sales.