Apple Files Trademark Application for 'Magic Trackpad'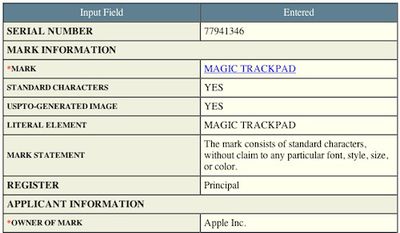 Patently Apple reports
that the U.S. Patent and Trademark Office (PTO) today published a trademark application filed earlier this week by Apple covering the term "Magic Trackpad". The application requests registration in International Class 009 under a number of categories relating to computer hardware and software, as well as several types of peripheral devices.
International Class 009: Computers; computer software; computer operating system software; computer utility software; computer hardware; computer peripherals; scanners; touchscreens; keyboards; computer mice; trackballs; trackpads; touchpads; light pens; joysticks; game controllers; graphics tablets; digitizers; cables and connectors; flash memory drives; USB drives; solid state storage devices; barcode readers.
It is not entirely clear what technology the trademark is meant to apply to and whether it would be some aspect of existing trackpads using in Apple's notebook computers or if it would be some other device offering trackpad functionality.
There has been speculation about some sort of multi-touch "trackpad gadget" since John Gruber mentioned such a possibility ahead of an October product launch from Apple that saw the introduction of every one of his claimed products except the trackpad gadget. The speculation was further fed several months later with the revelation that Apple had filed for a trademark on the term "Magic Slate".
At the time, Apple had yet to introduce its much-rumored tablet device, and so speculation was consequently centered around that release. But with Apple filing this new trademark application a month after the tablet device was introduced as the iPad, it appears that Apple may yet have something more up its sleeve.