Last-Minute iPad Photo Leak Reportedly Included Image of Prototype Next-Generation iPhone
Just prior to Apple's media event introducing the iPad last week, Engadget posted several photos of what did turn out to be the iPad, bolted down to a table and covered with a black cloth as Apple has been rumored to do with tightly-guarded pre-release products. One of the images shows an iPhone sitting on top of the iPad, offering a size comparison between the two devices.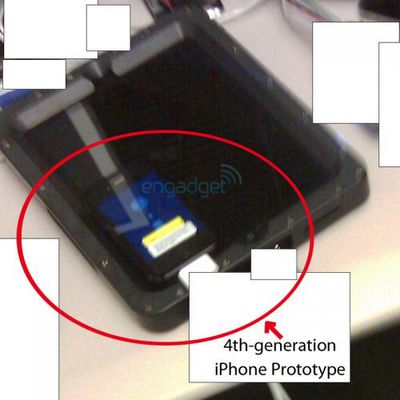 AppleInsider reports
today that it has received information from a source claiming that the iPhone shown in the photo is in fact an unreleased prototype of Apple's next-generation iPhone model.
People with an impeccable track record in matters such as these say the iPhone in below photo, published by gadget blog Engadget in the hours leading up to Apple's iPad announcement last Wednesday, is a prototype of one of the handsets due to hit the market in roughly five months.
Unfortunately, the quality of the photo leaves much to be desired, and few details on the purported prototype can be determined beyond a very similar likeness to the current iPhone 3G and 3GS casings. The report offers, however, a couple of possible visual difference between the pictured iPhone and current models.
Most obviously, the photographed iPhone appears to lack the iPhone's traditional aluminum bezel around its front edge, instead appearing to reveal an all-black bezel, although it appears possible that the iPhone is covered by some sort of skin or cover or even that reflections could make the aluminum bezel appear black in this image.
Second, a "whitish blotch" appears to the left of the iPhone's earpiece in the image, although it is again unclear whether this is an actual feature of the next-generation iPhone or merely a reflection shown in the iPhone's glass surface. Speculation regarding a hardware feature in that location obviously centers on the possibility of a forward-facing camera.
Evidence of the next-generation iPhone hardware being tested surfaced in late November.